Bloggin' Like "The" Boss: Think Like Bruce Springsteen to Boost Your SEO
March 23rd, 2016 by Search Influence Alumni
Keeping up with the ever-evolving world of SEO can be overwhelming. Blogging has been considered a beneficial marketing tool since the late 1990s and continues to be an excellent way to keep your business's SEO relevant and reliable. However, just because blogging has been around for some time does not mean that it is a simple task. There are questions that arise when blogging, especially if it's your first attempt. Why should I blog? How do I choose a topic to blog about? Well, in this blog…about blogging, Bruce Springsteen and I offer a few tips and tricks to ensure that you start Bloggin' Like a (The) Boss.
Why Should You Blog? You're About to Be "Blinded by the Light."
There are a few reasons why blogging is so beneficial for a business, but one of the most important is that it helps to drive traffic to your website. Here is a screenshot of a business's analytics the month prior to creating and launching their blog:
Here is a screenshot of a business's analytics for the month after they created and launched their blog:
As you can see, the visits, unique visitors, and pageviews vastly increased the month after the blog went live.
In short, the more relevant, optimized content you put onto the Internet about your business, the knowledge that you have, or even the services that your company provides, the more opportunities you create for a user to discover your business, its products, and its website. They can also create a direct link back to your website.
Blogs are an excellent way to help establish your website's authority. As Google continues to advance and get smarter, so do the ways in which it determines what information is important, natural, and helpful to the user. Consistently creating new and useful content around aspects relating to your business does exactly that.
Blogs can help to position your business as a leader in your industry. By crafting blog topics and content around current happenings in your industry, you can showcase your knowledge and expertise within your market.
How to Choose a Topic That Will Make Your Blog Rankings "Born to Run"
With endless options, choosing a topic can be overwhelming. Start with a category. Although categories are broad, you are creating an overall idea and theme that can easily be narrowed into a specific topic. The category should be one that you are interested in and knowledgeable about.
Take steps toward narrowing your category. Look at your category as a whole, and then choose the aspects within this area that you know the most about and that you think will be the most helpful and interesting to your readers. For example, if Bruce Springsteen happened to be the broad category that you chose, you could break it down with the following subjects: world tours, autobiography, and best-selling albums. Without even realizing it, you have created potential blog topics. Now all you have to do is choose your topic from the list you created for yourself!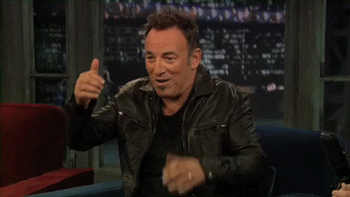 You will need to elaborate on the topic that you have chosen. Create a list by obtaining facts and details, and develop a list of questions that your blog should answer about your topic. Then make an outline to help structure your blog, incorporate all of the necessary facts and details, and make sure it answers all of the potential questions the reader may have. Once your outline is complete, you are ready to start "Bloggin' Like a (The) Boss!"
The digital marketing industry is composed of numerous beneficial and effective ways to better your business and its online presence. Because of this, it can be difficult to choose which strategies to move forward with. Blogging, like Bruce Springsteen, has proved its value for decades and continues to prove its importance in today's ever-changing world.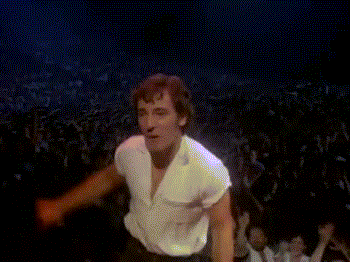 Image Credits:
America Bruce Springsteen GIF
Bruce Springsteen Thumbs Up GIF
Bruce Springsteen Dancing GIF