How Medical Professionals Use Google Display Ads to Win New Patients
January 20th, 2016 by Search Influence Alumni
By now, most professionals in the medical industry know that a robust Internet marketing campaign is necessary to achieve maximum exposure in the digital age. Doctors, practice managers, and other medical professionals may have an SEO plan that is designed to improve their search engine rankings with web crawlers such as Google. They may even have discovered AdWords, Google's PPC (pay-per-click) advertising program. However, many aren't aware of the visibility available to them via Google's most powerful tool: Google Display Ads.
GDN Banner Sizes: Get the Most for Your Money
All ads come in various shapes and sizes and are measured in pixels. Depending on GDN banner size you opt for, the number of partner sites available to you may dwindle. Generally speaking, the options available are as follows:
200×200 Small Square:

Appears on the right-hand sidebar on a limited number of sites.

250×250 Square:

As above.

300×250 Medium Rectangle:

Appears within or toward the end of an article, with a good number of sites to choose from.

336×280 Large Rectangle:

As above.

300×600 Half-Page Ad:

Appears on the left or right hand of the site, with a growing number of participating websites.

728×90 Leaderboard:

Appears inside or at the top of an article, with a good number of sites to choose from.

468×60 Banner:

Appears in small spaces inside an article or to the left side, with few participating sites.

234×60 Half Banner:

As above.

120×600 Skyscraper:

Appears on the sidebars of sites, with few participating sites.

160×600 Wide Skyscraper:

As above, with a good number of sites available.

970×90 Wide Skyscraper:

This ad appears at the top of websites, with few participating sites.
What Is the Google Display Network (GDN)?
AdWords promotion will get your business and services noticed, as it bumps your site toward the top of SERPs (while simultaneously flagging it as an advertisement), but the GDN is slightly different. Google has said that the GDN reaches over 90% of Internet users worldwide, expanding across 2 million pages, including Google-owned sites like YouTube and Gmail, popular news outlets like The Huffington Post and, best of all, a large number of webpages devoted to the medical and healthcare industry. Not only do these ads display when a consumer is already searching for your services, but they also appear on related sites and target the lead while not in "shopping mode." This unique ability to shape and direct the scope, reach, and target audience for your ad makes the GDN an invaluable tool in anyone's digital marketing strategy.
Where to Begin: Types, Formats, and Focus
Though you can opt for a text ad, researchers have found that maximum impact occurs with image ads, which Google places into four categories; static, animated, interactive, and video.
Static ads: These are just what you might imagine: banners of different sizes that occupy space (usually at the top, bottom, or sides) of a website. The GDN allows these in the most common image file formats: JPG, JPEG, PNG, and non-animated GIF. The example to the left is a static ad created for Donaldson Plastic Surgery.
Animated ads: This type of ad often generates more interest, as the eye is drawn to movement on an otherwise still display. This type of image also has the benefit of including more information, as you can phase from one still image to the next without having to take up a large amount of page space. These can be uploaded as an SWF or GIF.
Interactive ads: These encourage input from the user, whether it be by including a link to sign up for a newsletter or showing a photo gallery of products that requires the user to click to view more. These ads can only be uploaded in SWF format. Studies suggest that people are 2.5 times more likely to take action after viewing an interactive ad; however, it's worth noting that opting for static ads gives you a greater number of sites to advertise on.
Video ads: These ads can be particularly eye-catching, and they allow you to market on sites that display video content, like YouTube.
Here is an infographic that will help you easily remember the sizes.
When selecting a size for your Google Display Ads, it's paramount to consider the both the click-through rates and the number of potential clients who will be exposed to your campaign.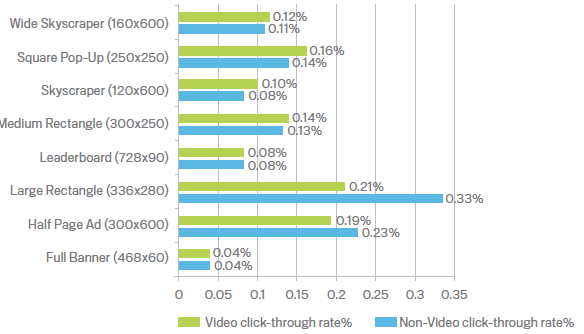 A large interactive ad may seem like a good idea, but if it only appears on a handful of websites, it may not be worth the cost—or the effort.
Technical & Content Requirements
The GDN will not accept ads that are larger than 150KB. Reducing image size—particularly for animated or interactive files—without sacrificing quality can be difficult, which is why it's always a good idea to consult with a professional design and marketing team. While animated ads can be looped (effectively playing forever), they cannot be more than 15 seconds long consecutively. Ads in GIF format must be 5 frames a second, whereas Flash ads (whether video or animated) can be considerably longer—up to 20 frames a second and sometimes slower.
Google Display Ads also carries content guidelines that are particularly pertinent for those in the medical profession. Some of these rules are self-apparent, like not duplicating site content, not tricking users into clicking your ad by pretending to be a virus warning, and making it clear that the material is an advertisement. However, Google also has rules regarding adult-oriented content that can impact healthcare professionals, particularly in fields like OB/GYN and plastic surgery. For example, images containing exposed skin and nudity are not allowed, nor is content that is sexually suggestive. Again, consulting an Internet marketing specialist may be the best way to get your brand out there without inadvertently violating Google's policies on restricted content.
Tips for Successful Ads
There's no question about it: Google's paid advertising options are powerful, but they're complicated. Making the most of the GDM requires completely rethinking the way you market your services and products. You need to be intimately acquainted with your target audience, what sites they're likely to visit, and what types of advertisements they're most likely to respond to. Additionally, what works for a general practitioner isn't going to work for an inpatient addictions clinic. Doctors who specialize in breast augmentation may encounter more problems than those who specialize in psychiatry and counseling—it all depends on your business and your prospective clientele.
With years of experience in paid search and display advertising for medical practices, Search Influence is uniquely qualified to help you and your business harness the extraordinary power of Google Display Ads. Get in touch today, and we'll be happy to come up with a plan to increase your visibility and enhance your bottom line.
Image Credits: