Lead Generation Case Study
Higher Education Marketing
Palo Alto University is a private, nonprofit university with a sole focus on psychology and counseling at the undergraduate, graduate, and doctoral levels.
Goal
250 monthly inquiries
Result
272
Average Monthly Inquiries Delivered
49%
Increase in monthly inquiries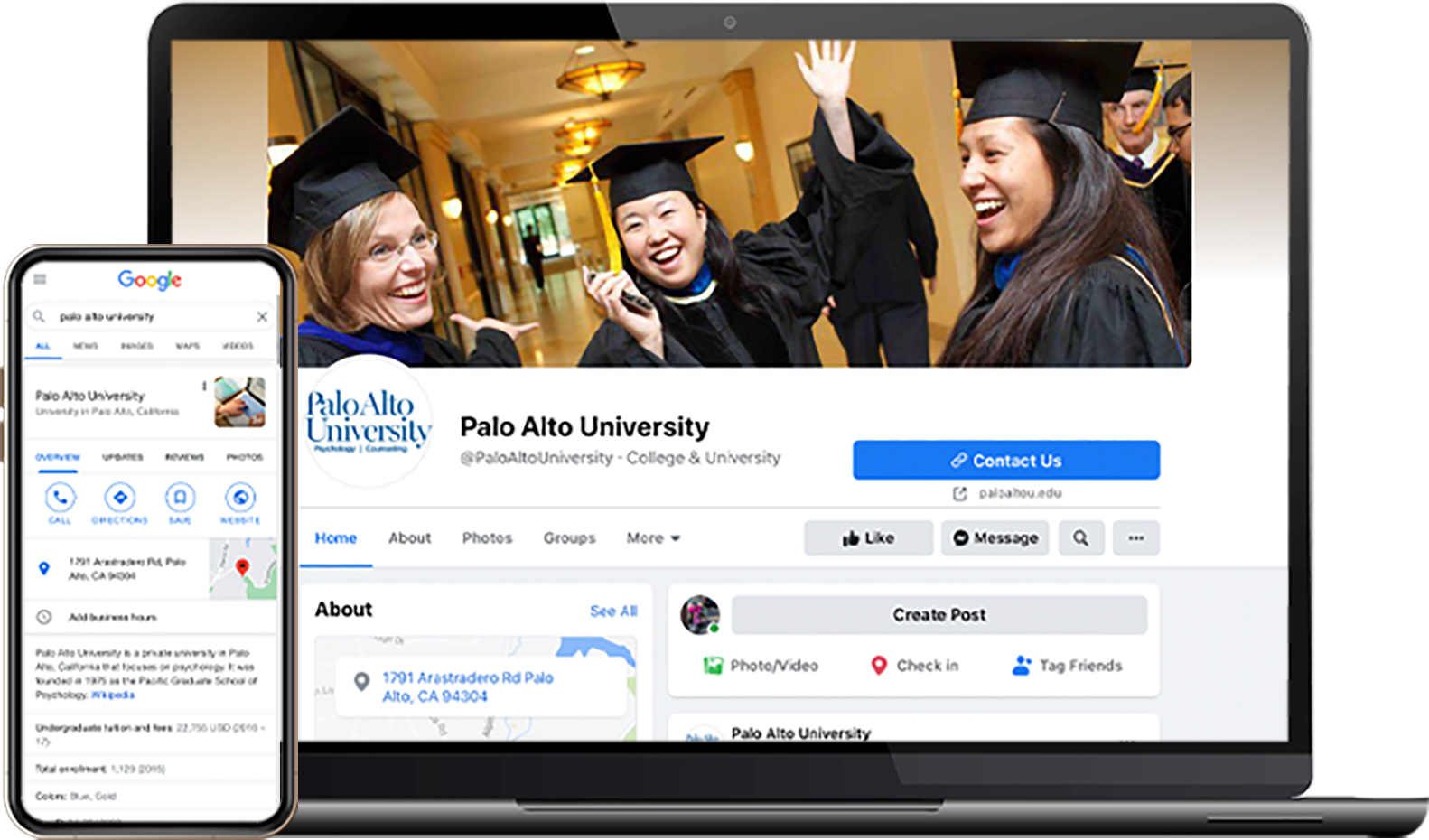 Goal & Situation:
Inquiries and started applications are the metrics that matter most to small universities and higher education institutions.
Palo Alto had been running a cross-channel Google, Facebook, and SEO campaign for approximately a year with modest results. In Q1 2020, digital marketing delivered an average of 185 leads per month.
We worked with the client to set a goal to deliver an average of 250 inquiries per month within Q2 and Q3 of 2020.
Our campaign data indicated we were missing part of the available audience due to budget. We were only lightly touching each segment of our target student population, and our experience told us that if we touched more potential students more often, we could produce better results.
Search Influence's Approach:
Our team identified and executed a 4-pronged approach to ramp up lead generation in their target audience.
Expand campaigns to specifically promote four key degrees: MA Counseling, BA Psychology & Social Action, BA Business Psychology, "Undergrad Degrees" (targeted toward transfer students)
Increase investment in paid advertising to capture more of the available audience
Further optimization of on-site content
A/B testing of refreshed messaging supported by the university's branding partner
Result:
272 average monthly inquiries driven in Q2 & Q3 2020 (exceeded goal)
49% increase in average monthly inquiries compared to Q1 2020
Our content and messaging optimizations and strategic budget management expertise supported exceeding the goal by 8%. Data-driven campaign analysis helped not only impact the effectiveness of their prior marketing spend, it also meant earning additional student inquiries by investing more in a well-performing campaign.
Search Influence is a smart and hard-working team that helps us strategize and improve on our campaigns with best practices and the latest trends. They are always fantastic to work with, and they care about our success.
Build a Consistent Student Pipeline
Through our experience with Palo Alto University and other higher education institutions, we understand how to optimize your budget in order to drive inquiries.
Our team of strategy experts sets simple, measurable, and transparent campaign goals so you understand how your marketing spend impacts the success of your business.