They Don't Call it Fat Tuesday For Nothing!
February 6th, 2015 by Search Influence Alumni
How much king cake has your office consumed since the start of the new year? Those who don't live or work in Louisiana will respond to that question with a forlorn "zero," but at Search Influence, the answer is probably somewhere between "not enough" and "infinite."
King cake season is a prime opportunity for the office to bond over our uncontrollable gluttony, but it also has something to teach us about paying it forward and supporting our coworkers. In addition to having the Mardi Gras spirit baked into every buttery bite, king cake is a great office snack because it is self-replenishing. Depending on how thinly you slice it, one king cake can feed 15-20 people in your office, and by the time the last crumb has been devoured by a ravenous coworker, the provider of tomorrow's king cake has already been chosen by the plastic baby of fate.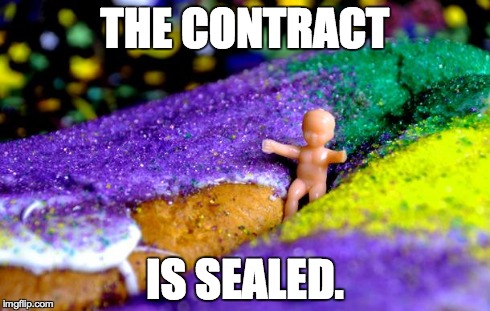 For the uninitiated, the individual that discovers the baby hidden in their king cake slice is obligated to bring in the next one for everyone to share. In other words, the responsibility of providing this seasonal pastry to the entire office is continually passed from person to person, allowing everyone to enjoy infinite king cake without having to buy infinite king cake. By continuing this chain of goodwill and endless baked goods, you are paying it forward to the entire office.
Fortunately for your cholesterol, this strategy of passing the torch and spreading the wealth doesn't have to end with king cake. When individuals take turns bringing in snacks, giving out thank you notes, taking the lead for projects, and volunteering for office chores, the entire office feels the benefits.
Don't wait to find the fake baby surreptitiously hiding in your food to pay it forward king-cake style. Try one of these pay it forward ideas in your office today.
Image Sources: