A Series of Influencing Events: Search Influence Pros Take to the Road
December 29th, 2015 by Search Influence Alumni
Search Influence's reach is expanding around the country!
Whether you're on the East coast or the West coast, there's an Influencer coming near you this spring! CEO Will Scott and Director of Account Management Paula Keller will be representing Search Influence and imparting their local search wisdom in Williamsburg, Seattle, Portland, San Jose, and Nashville in 2016.
Read more below to find out which conference most speaks to your marketing strategy needs!
Seattle: MozCon Local – February 18 & 19, 2016
Diving deep into the world of local marketing and SEO, MozCon is hosting a local-focused conference, MozCon Local, at their world headquarters in Seattle. Gauged at the intermediate to advanced crowd, MozCon Local isn't your average search conference. Moz has gathered a well-rounded crew of experts to provide you the opportunity to participate in live Q&A, meet and network with fellow industry players, and consult with expert publishers and analysts.
Moz has teamed up with LocalU to bring you workshops on Thursday and a full-day conference of hand-selected speakers on Friday.
Local Search Processes – Expert Panel/Q&A – 12:55 p.m.
Paula Keller, Director of Account Management at Search Influence, joins industry experts Darren Shaw of Whitespark, Mike Ramsey of Nifty Marketing, and Aaron Weiche of GetFiveStars for a panel discussion and Q&A on best practices and best processes to use in marketing your local business online. It's a powerful info session you won't want to miss!
Fake It Til You Make It: Brand Building for Local Businesses – Seminar – 2:05 p.m.
Paula will provide real-world examples and success stories about local businesses establishing brands that both customers and Google will recognize and reward! Learn what you can do to keep up in this changing world of ranking factors. As Paula strategizes with businesses on improving their search, social, and online ads results, she lends credible knowledge to the subject matter and will share tactics on how she manages her team's 800+ local business clients.
Local Targeting of Paid Advertising – Workshop – 2:50 p.m.
Now it's time to break out and ask your questions directly. If you run or want to run an AdWords campaign for your local business, you have or will very soon realize that Google puts a lot of options in front of you—but you may not be sure how to best leverage them. Paula will be ready to answer your AdWords strategy questions and share her tips for local targeting from choosing the right ad extensions to when to use increased mobile bidding.
Register now for MozCon Local!
San Jose: SMX West, Local Search Advantage Workshop – February 29, 2016
Heading to SMX West in San Jose this year? You will want to arrive one day early and attend the Local Search Advantage Workshop. Will Scott will be on-hand at this action-packed event to offer practical advice and best practices for digital marketers, brands and business owners of all sizes looking to be found by online buyers. Sessions range from local presence management and mobile SEO to localizing social media, reputation management and multi-platform attribution.
Register now to attend the workshop or get an all-access pass and stay for SMX West in San Jose.
Williamsburg: LocalU Advanced – March 5, 2016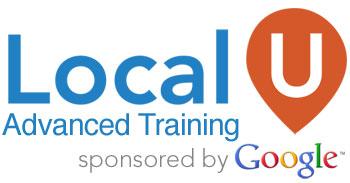 Meet with all of the experts in the local search game! No matter the size or type company you work for, your search marketing questions will be answered at LocalU Advanced in Williamsburg, VA. Order your tickets for info-packed presentations featuring all of the most up-to-date information about what's working and what's not in local SEO. Join experts like David Mihm, Mary Bowling, Mike Blumenthal, Search Influence's own Will Scott, and more for an informative and fun day!
Search Fundamentals: Inspired Local Linkbuilding Tactics – 9 a.m.
Will Scott joins Mary Bowling of Ignitor Digital, Mike Ramsey of Nifty Marketing, and Mike Blumenthal of GetFiveStars to discuss the power of locally relevant links that build value for your business. If you're looking to gain a more comprehensive understanding of the power of link building in today's algorithmic world, look no further!
Deep Dive: Competing And Winning in A Pay-to-Play World – 11:30 a.m.
After the joint session, Will's going solo! "It's been said time and again that there's no such thing as a free lunch." Learn what it means to join the pay-to-play world of social media marketing and come away with some key strategies for utilizing paid platforms to generate leads for your local business. Leave your preconceived notions about content marketing, social engagement, and lead delivery at the door, and get on the right track so you can stay afloat in the ever-changing world of online marketing.
Register now for LocalU Advanced!
Portland: SearchFest – March 10, 2016
Join the marketing experts at SearchFest, hosted by SEMpdx, at the Sentinel Hotel in Portland to experience multiple learning tracks, including workshops and panel sessions designed to provide direct insight into the most up-to-date strategies and advancements in SEO, SEM, and social marketing. You'll find some of the biggest names in almost every niche of online marketing at SearchFest.
Lifting Your Local Brand Above the Internet Cesspool – 11 a.m.
Paula Keller shares the stage with Cori Shirk of Seer Interactive to educate us on how a local business can "act" like a big brand and how a big brand can "act" like a truly local business. No matter the size of your business, make sure you're expressing your brand properly so you can attract the most qualified audience and enhance your ROI.
Beacons & Retargeting – 2:45 p.m.
Take a dive deep into the technology of the "Minority Report" society we live in. Will Scott will discuss the intricacies of retargeting the right audiences, and using actual beacons of technology to deliver your message. Don't miss this one!
Register now for SearchFest in Portland!
Nashville: Hospitality Marketing Symposium – April 5, 2016
The HMS is a conference focused on Internet marketing and technology and purposely crafted to benefit innkeepers, owners, marketing staff, and vendors in the hospitality industry. Will Scott will lead a session on social media marketing trends, and will provide practical tips and tricks to stay one step ahead of the competition.
Register now to reserve your seat for the HMS in Nashville.
We can't wait to see you on the road! However, if you can't meet us in any of these locations, you may want to make plans to attend one of our new Search Influence University webinars, the first of which is on February 25. Click here to see a list of our upcoming topics.