5 Tips for Managing a Multi-Location Business Online
July 29th, 2013 by Search Influence Alumni
Managing a business with multiple locations online can be challenging. It's important to connect potential customers online with the business location nearest them. Follow these 5 tips for best practices for managing your multi-location business.
1. All locations need their own individual page!
It's important for each location to have its own page on your website. You want each location page to rank for local search in the area. Having one page for each location maximizes the relevancy of the location web page to a searcher and has better chance of ranking locally, especially in blended results (organic mixed with maps results).
2. Optimize content for each page 
Add content to the page optimized for a top level keyword and location. Make sure to do this in a way that reads naturally.  

Content can be relatively short and simple, explaining what the business is / offers, unique selling points, and where the business is located.  Make sure to also optimize the On Page heading (H1), title tag, and meta description as these are all important factors for SEO. It is crucial to have unique content for each page. Many businesses use the same content for all location pages, only switching out the geographical location. This duplicate content leaves the site vulnerable to penalties from Google. For a business with over 100 locations, creating unique content can be difficult. A tip for the writing unique, compelling content for these pages is to incorporate some "local flare" or any information specific to that location in the copy.
3. Provide a good user experience
On each location page, also be sure to list out the name, address, and phone number for that location. Its important for visitors that come to the page to be able to easily contact the business or find out where it is located. Adding a map with a pin on your location also proves to help visitors get a better visual of exactly where you are located. When listing the NAP for each, keep the format consistent across all pages. Make sure the name is the actual, official name of the business–instead of "Domino's New Orleans"–as this will be consistent with other local listings across the web.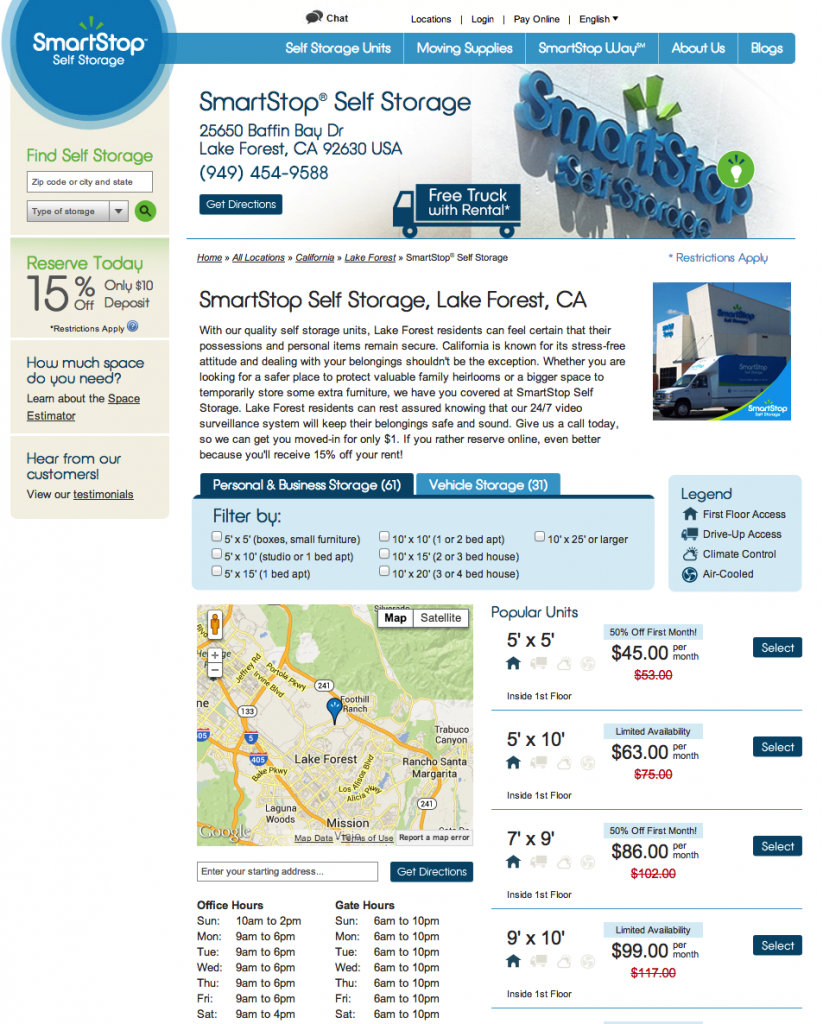 4. Tell Google where you are!
Implement Hcard or schema around each name, address, and phone number of the location pages. Let Google know who and where you are. These are microformats that provide a standardized way to tell Google and other search engines your contact information. By implementing Hcard around your NAP, you can let Google know "this is my physical location." Adding this code to the site will help the location page rank well in local search. By knowing where your business is located, Google now knows the page is more relevant to searchers.
5. Consistent Citations
When creating local citations across the web, be sure to list the name, address, and phone number of each location consistently. Having consistent listings across online directories helps enforce your physical address to Google and increases the chances of ranking locally. It is especially important to have your NAPs listed consistently on your Google+ local listings. If the directories allow, add the location landing page url in the website field, as this page is most relevant to the listing information.
Google offers businesses with 10 or more locations a way to bulk upload local listing information. The upload process creates new listings as well as edits pre-existing listings. From my experience, this method has proved to be a very slow process. Bing offers very similar services for multi-location businesses, but 25 or more locations are required to use this upload. The most efficient bulk upload offered by a directory has to be Foursquare. I created a bulk upload for a business with 117 locations, and in less than 24 hours all the listings were created/updated and live.
Following these 5 steps can dramatically help your local search presence. What other tips do you have for managing a multi-location business? Please share in the comments below!